Wallet Size Photos - Perfect for Senior Pictures
Wallet Size Photos with Rounded Corners
Wallet size photos are perfect for senior pictures, and are great to exchange with your family and friends.

Our standard wallet size photos are 2.5x3.5", with die-cut rounded corners, sold in sets of (8) prints. We also offer sets of (4) 2.5x3.5" wallets, and sets of (4) 2x3" mini wallet prints, which are not die-cut.
---

As with all of our photo prints, your wallet size photos are always 100% satisfaction guaranteed. If you are not happy with your prints, we'll remake them for free.
---
Wallet Size Photos - Perfect for Senior Pictures
Wallet size photos for senior pictures, high school and college graduation photos, grad announcements, as well as invitations and cards, or to exchange with you friends and family. Our standard Wallet picture with die cut rounded corners are 2.5x3.5", and are sold in sets of eight wallet prints, including a free wallet photo box. Sets of (4) wallet photos, and sets of (4) 2x3 mini wallets, are printed on a sheet and are not die-cut.

We make your wallet size photos on Fuji Crystal Archive paper, for beautiful, vibrant color, and long lasting prints. Whether you had a photographer shoot your senior pictures, or you took them yourself, we'll make your wallet photos look great.
One day turn around plus fast shipping on wallet photos
When you order your wallet photos, we'll make your prints and ship them in out in one day.

• All wallet photo orders include a free paper wallet print box.
• All photo print orders are 100% guaranteed.
• Die cut wallet photos will arrive as individual prints.
• Sets of (4) 2.5x3.5 and 2x3 mini wallets are sold on a sheet, and are not cut.

• Wallet photo paper options

• Get help ordering wallet photos online
---
Personalize your wallet photos with your name and class year
It's only $5.00 more to add a custom imprint to your wallet photo order - Custom wallet photos imprinted with your name and class year are perfect for senior pictures!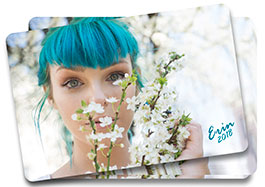 Here's how to add imprinting to your wallet photos:
If you are ordering wallet photos for your senior pictures, and you want your name on the wallet photos, simply tell us in the 'Special Instructions' box when you are checking out. The cost is $5 per order, regardless of how many wallet photos you print.

You can choose your font and color, or leave it up to us and we'll make your name imprinting look great!
▸ Get help imprinting your wallets and
choose your font and color here
---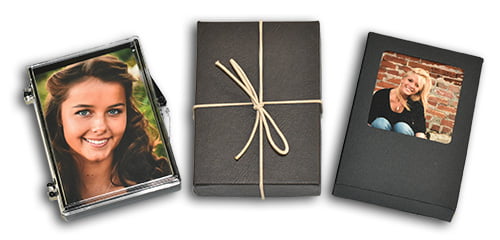 Print boxes for carrying and protecting your senior photos
Paper wallet box - Free with your die-cut wallet photo order. Our paper boxes hold 70 wallet photos and feature a window opening to see your prints.

Deluxe Plastic Wallet Box- $1.99. These wallet boxes are great for holding and protecting your wallet prints, and will hold about 60 photos.

Premium Wallet Box- $3.99. Two piece box with matching bow is made of sturdy fiber board, and is a rich chocolate color - will hold about 100 photos.

Your wallet photo order will include the free paper wallet box, but if you'd like to upgrade to a Deluxe Plastic or Premium two-piece wallet box you can add them to your shopping cart when you are ordering your photos
---
Tip: When you are setting your pictures up for wallet size photos please remember that we will be removing about 1/16th of an inch when we make the die-cut rounded corners. The finished wallet photo print size will be slightly smaller than 2.5x3.5". We do check the cropping on all photo orders prior to printing.
Wallet size photos are perfect for graduating seniors! Include them in your graduation announcements, grad party invitations, and pass them out to friends - they make perfect little portraits that will last a lifetime. And, if you are a photographer or studio, add wallet photos to your high school senior picture package and grow your business.