Passport and Visa photos - US and Canadian passport photos.
Passport photos last for ten years - we'll make them look good!

If you would like to have your passport pictures taken, you will need to call us for an appointment.
Give us a call at (913) 648-0871 to arrange an appointment between 10am and 5pm Mon-Fri. We'll get the details of your order, as well as take your payment over the phone to avoid unnecessary contact. Please arrive ready to have your picture taken (no clothing changes, hair or makeup touch-up please.) We are allowing a maximum of two people in our building at a time for passport photos.

We guarantee that our passport and visa photos will not be rejected - Whether they are US, Canadian, British, Irish, Chinese, Indian, or photos for most any other countries.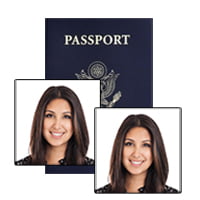 TIP: If you are having non-US passport or visa photos made, please bring the photo specifications along with you. We also advise and that you avoid wearing light colored or pastel shirts to get the best results.
Passport and Visa photos.

U.S. Passport photos

Set of 4 passport pictures, 2x2"
$14.99

Canadian passport / Visa photos

Set of 4 Canadian passport or Visa photos
$17.99

Passport / Visa photos - other countries.

Set of 4 passport or Visa photos.
$17.99
Digital passport / visa photos
No prints, CD only.
$14.99
Kansas concealed carry permit photos
Set of 4 passport pictures, 2x2"
$14.99
Add a digital copy of your passport photos on CD
$5.00
Additional copies of passport photos
35c
We specialize in making passport pictures, visa and immigration photos for needs that no one else in the Kansas City area can. Some countries, Canada in particular, are extremely picky when it comes to passport photos, and we know exactly how to make the photos so you won't have to deal with your paperwork being rejected.

We can make passport, visa and immigration photos for almost any country, but the photo requirements for each country can vary by quite a bit. If you need a passport picture, visa, immigration or citizenship photo for a country other than the United States, please bring the specification sheet with you when you come in for your photos.

Canada and many other foreign countries have very specific specifications for their passport visa an immigration pictures, and we know just how to do them.

If you submit an incorrect passport, visa or immigration photo you will have to wait longer and spend more money. Why risk it?
To get a passport application or if you need information about applying for a passport or renewing your passport, visit the US Department of State to get the current requirements and general information.