Premium photo prints made with care.
We make your photo prints using only the highest quality materials, including premium Fuji, Hahnemuhle, Moab, and Somerset Velvet Fine Art photo papers. We take care to make the very best prints possible from your pictures, including color correction and hand inspection of each and every print.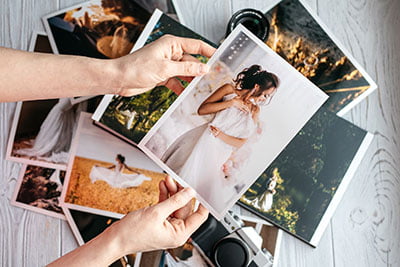 ---

Traditional Matte or Glossy Photo Prints
Fuji Crystal Archive Paper

Fuji Crystal Archive is our standard photo paper, and is long-lasting, featuring vibrant life-like colors. Our matte paper has a subtle satin finish and is our most popular paper type. Crystal Archive prints in matte and glossy finish are printed on our Fuji Frontier 590 printer in sizes from wallet photos up to 12x24.

Prints that are 16x20 and larger are printed on our Epson 7900 using premium Hahnemuhle glossy or lustre photo paper.
---
Specialty Photo Prints - Fine Art, Metallic, Deep Matte and Canvas
Somerset Velvet Fine Art Prints This is a fine-art paper with a very matte, textured finish, most suited to fine art style prints. Printed on our Epson 7900 HDR printer.
Satin Exhibition Canvas Prints This is a true artist's canvas with a textured finish. Canvas prints are ready to be stretched or framed. Printed on our Epson 7900 HDR printer.
Fuji Deep Matte Velvet Prints This paper features a zero-reflective top layer which creates a stunningly soft and deep matte effect. The paper surface is a soft velvet, which along with true whites and accurate color reproduction, make this a truly unique paper. Printed on our Fuji Frontier.
Pearl Metallic Prints This glossy paper has a unique pearlescent metallic effect, and features very vivid colors. It is ideal for images with bright, saturated colors. Printed on our Fuji Frontier printer.
Specialty paper photo print sizes and prices.

| | | | | |
| --- | --- | --- | --- | --- |
| 5x7 | $4.89 | | 12x24 | $37.49 |
| 8x10 | $10.49 | | 16x20 | $55.49 |
| 8x12 | $13.99 | | 16x24 | $68.40 |
| 10x12 | $16.49 | | 20x20 | $68.40 |
| 10x15 | $19.49 | | 20x24 | $85.43 |
| 11x14 | $19.49 | | 20x30 | $94.99 |
| 12x12 | $19.49 | | 24x30 | $104.99 |
| 12x18 | $25.49 | | 24x36 | $112.50 |
Custom print sizes are also available.

Learn about our photo paper types.
---
Order premium quality photo prints online.
Order photo prints online
Prints are available in a wide variety of sizes from wallet size photos to poster prints. Choose from matte or glossy finish or upgrade to our specialty papers including canvas, fine art and metallic. When you order your photo prints online you can choose to pick them up at our lab, or we can ship them to you in one day.
---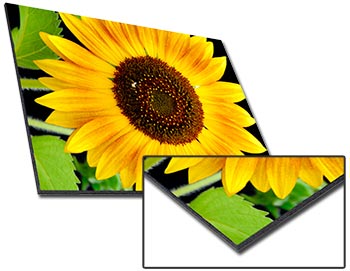 We also offer print mounting.
Our professional print mounting will both protect your prints and give them an attractive gallery ready look. We can mount your prints on a variety of high quality mount boards including styrene, foamcore, and gatorfoam.
Learn more about our print mounting.
---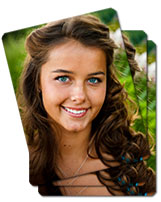 Wallet photos with die-cut rounded corners
Wallet size photos are perfect for graduation senior pictures, announcements and holiday cards. Your wallet photos will be die-cut with round corners and packaged in a sturdy cardboard wallet photo box. Wallet size prints are sold in sets of 8 for $2.99 per set.
Wallet size photos with die-cut rounded corners
---
Studio quality photo prints for your senior pictures.
Order your senior pictures online and you'll be amazed at the quality of your prints and how fast they arrive. Most orders ship within one day, and your prints are always 100% guaranteed.
Learn more about our senior picture printing.
---
You can order your photo prints online, or you can order them here at our lab. Just bring your photos in on a usb drive, cd, iPhone, or even floppy disk and we'll make your photos look great.
Looking for prints from your film?
See our sizes and prices for prints from film here.