Make copies of your original photos without a negative or a digital image.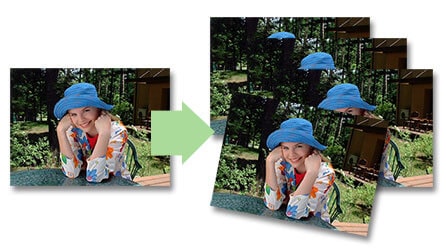 If you are looking for copies of your photos, but don't have a negative or the digital picture file, we can make copies of your photos that are almost as good as the original. We'll scan your original prints, match the color, and then make new prints. And, we can also save the pictures on a CD or USB drive as well.

Copyscans can be made from prints from wallet size all the way up to 11x14, in color or black & white. If your original photos are larger than 11x14 we can capture them and save them on disc or USB drive as well.
Photo scanning and copying prices.

Basic print scan

$1.49
These are economical, uncorrected scans for when you have large quantities of prints to scan. Basic scans are available for originals up to 11x14. Priced per original.

---

Premium Copyscan

$5.00
This is our highest quality scan which includes custom color correction and resizing. Copyscans are available for originals up to 11x14. Priced per original.

---

Digital capture from oversized originals.

$50.00
We can capture original prints larger than 11x14 - includes correction and a CD of the image.
Photo prints from your scans.

| | | | | |
| --- | --- | --- | --- | --- |
| 4x6 | 40c | | 12x18 | $18.99 |
| 5x7 | $3.99 | | 16x20 | $39.99 |
| 8x10 | $8.99 | | 16x24 | $45.99 |
| 8x12 | $10.99 | | 20x24 | $59.99 |
| 10x12 | $12.99 | | 20x30 | $69.99 |
| 10x15 | $14.99 | | 24x30 | $75.99 |
| 11x14 | $14.99 | | 24x36 | $79.99 |
• We ALWAYS return your original prints.

• Each picture is inspected for ideal color and density.

• Standard prints are matte or glossy finish.

• Or, choose one of our premium photo papers.

• See all of our paper choices here.




• We can save your scanned photos online with Dropbox, or provide them on CD, or USB drive.
Send your photos to us for copying.
Sending your photos to us for copying is easy! Download an order form here and send it in along with your original prints. We'll make your copies and send them back fast.
---
Note: We cannot copy photos or materials that are copyrighted. Our turn-around times are estimates, and can vary based on current processing volumes currently in our lab. If you would like to check the status of your job, as a result of increased call volume, we may not be able to answer all incoming calls. To check the status of your order please contact us via email here.
We accept most credit & debit cards as well as PayPal.