Personalize your wallet photos with your name and class year.
Name imprinting is only $5 per order if you use the same text on all of your senior wallet photos. Your name imprinting is added digitally to the wallet photos, so we can use any of the colors below.

If you would prefer we can choose the imprint font and color for you - we'll pick the best name imprint color for each picture and make your senior pictures look their best. We'll add the name imprinting to each wallet photo image in the best location for each photo, so that all your prints look great.
Here's how to order your wallet photos with name imprinting:
If you would like to have your name and class year on your wallet photos simply tell us in the 'Special Instructions' area while you are checking out. You'll see the 'Special Instructions' box twice - once right after you select your prints, and once again during checkout.
Example: "Please print Kaleigh 2020 on the wallet photos."

You can choose from these fonts and colors, or you can let our designers pick the best font & color for each picture.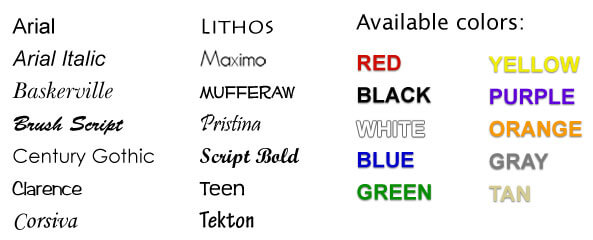 Our wallet photo name imprinting is not done by a computer, but by a member of our staff.
A talented person here in our lab will add the custom name printing on each an every image, so you can be sure that the name and class year is placed in the perfect spot on every wallet photo. And as always, our work - including custom name printing on wallet photos, is 100% guaranteed. If you don't like it, we'll redo it - for free.

Tip: When you are setting your pictures up for wallet size photos please remember that we will be removing about 1/16th of an inch when we make the die-cut rounded corners. The finished wallet photo print size will be slightly smaller than 2.5x3.5". ** We do check the cropping on all photo orders prior to printing.
Die-cut wallet size photos
Die-cut with rounded corners, sold in sets of eight prints.
When you order your wallet size photos we'll print, die-cut, and ship your wallet photos in out in one day.
Die cut wallet photos - FAQs
Tip: All die-cut wallet photos are packaged in a free paper wallet box.