<!Wrapper>

<!Header>

<!Navigation-bar> <!Body>
Professional quality 35mm, 4x5 and medium format E6 slide film processing.
Accurate developing for your slide film is critical to get the best color and contrast from your slides, which is why we clean, monitor and maintain our E6 film processor meticulously for optimum results.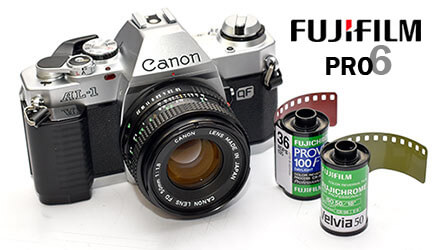 Our Fuji Pro6 E6 chemicals are fresh and are formulated to give your slides and transparency film the most consistent processing results time after time. We develop all E6 films including Velvia, Provia, Ektachrome, AgfaChrome, Astia, and many more.

We provide quality E6 film processing to photographers in Kansas City, as well as by mail for our customers around the country, and we'd love to help you with your E6 processing. If you'd like to send your E6 film to us for processing by mail you can get an order form here.
---
35mm E6 Slide film processing
120 and 220 E6 film processing
E6 film developing, 24 or 36 exposure roll
4x6 prints at the time of processing

Scan roll to CD standard res. (2400x3600)


9.99
.30 ea

7.99


E6 120 film developing
E6 220 film developing

Scan 120 roll to CD, standard res. (2400x3000)
Scan 220 roll to CD, standard res (2400x3000)
9.99
10.99

7.99
15.99
4x5 E6 film processing
4x5 E6 film developing, per sheet
4x5 proof print, at time of processing
4x5 film scan to CD standard res. (1200x1500)
4x5 film scan to CD high res. (3600x4500)

5.99
3.50
3.50
10.00

• Turn around is one business day (Mon.-Fri.)
• We use German plastic slide mounts.
• Your 35mm slides are numbered and dated.
• We can cross-process your E6 film.
---
Send your film to us:
Process One
7105 W. 95th St.
Overland Park, KS 66212
• Download a mail-order form here.

Download, print and complete your order form and include it with your film when you send it in for developing.
If your film did not turn out the way you expected, check out our film processing troubleshooting guide here:
Film Processing Troubleshooting
<!Footer>