Our print mounting options will give your enlargements or Gallery Prints a professional, protected, finished look.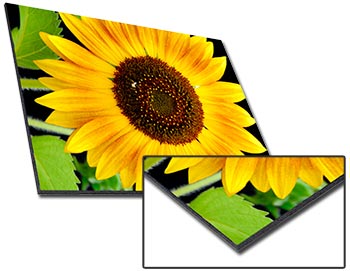 Our professional print mounting will both protect your prints and give them an attractive art gallery ready look. We can mount your prints on a variety of professional quality mount boards:

Styrene- A great low-cost option provides protection and rigidity for your print prior to framing.

Foam core - Rigid white foam provides protection and rigidity for your print for display or framing.

Gatorfoam- High density warp-free coated black foam board provides excellent protection.

Gallery Mount- 1/2" Gatorfoam featuring a finished black edge and pre-drilled holes for easy hanging.

We use pro quality acid free CODA mount boards - prints and mounts are sold separately.
---
White Styrene





.040" white styrene - water and warp-resistant long lasting rigid backing - great for easel display or framing.




5x7
8x10
11x14
16x20
20x24

4.99




7.99




10.99




15.99




19.99

Foam Core





3/16' white foam core - long lasting, rigid white foam backing - great for easel display or framing. Foam core can be cut to custom sizes!




5x7




8x10




11x14




16x20




20x24

4.99




7.99




10.99




15.99




19.99

Gatorfoam





3/16"premium black foam board with a unique coated finish and moisture-barrier backing - a great gallery mounting or pre-framing product.




5x7
8x10
11x14
16x20
20x24

8.99




11.99




14.99




19.99




25.99

Gallery Mount





This mount uses 1/2" Gatorfoam and adds a very nicely finished edge treatment. Pre-drilled with holes for hanging and 100% ready to hang on your wall or in your gallery.




5x7




8x10




11x14




16x20




20x24

13.99




17.99




22.99




29.99




39.99