Save the images stored on your 35mm slides come to life again by having them scanned to high quality digital picture files. Your parents or grandparents spent a lifetime collecting their memories on slides so don't let them fade away.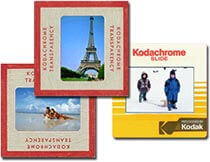 We can also print your slides and save them on CD or USB drive for easy viewing and printing at a very reasonable price, and with our quantity discounts, the more you slides you have printed or scanned, the more you save. We can save your scanned slides to a CD, DVD or a USB flash drive if you prefer. If you would like to supply your own USB drive please bring it in along with your slides.
We scan your 35mm slides locally in our lab in Overland Park, so you won't have to worry about having your slides lost. You can also mail your slides to us for printing or scanning -
get an order form here.
---
When we scan your 35mm slides we will blow them with compressed air to remove any dust, and then correct the scanned image to give the best color and contrast. Most slide scanning jobs require one business day, but larger projects may require extra time.
If you would like we can scan you 35mm slides in order if you provide them to us organized in the order that you would like. We can scan any type of 35mm slide including Kodachrome, Ektachrome, Fujichrome and many more.